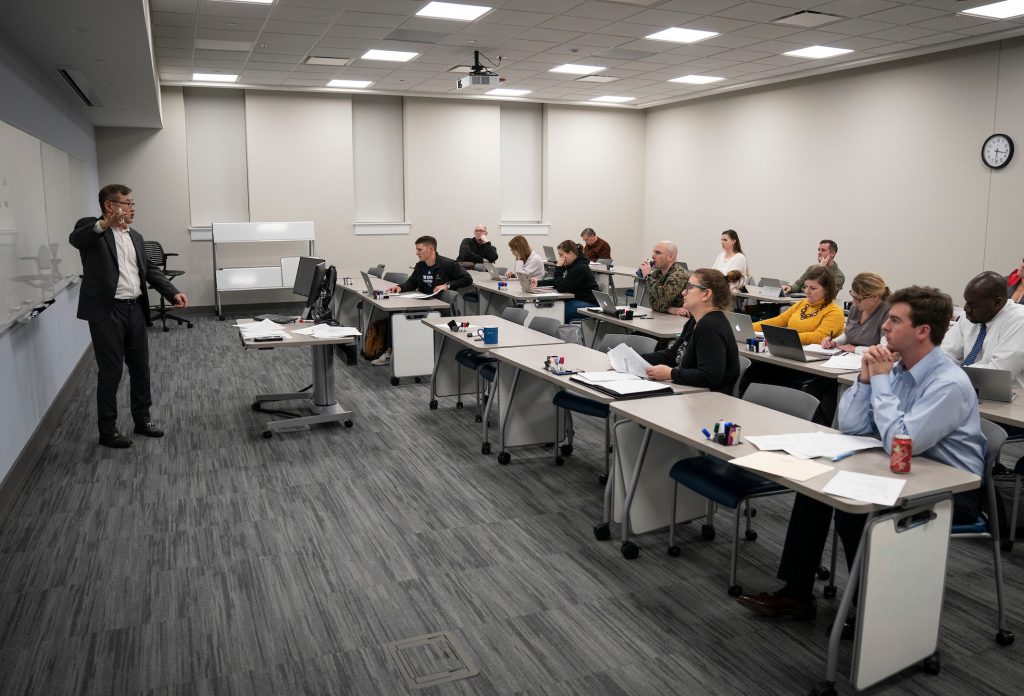 Zoom Town Hall for summer students scheduled for 6:30 p.m., Tuesday, May 11, check back for link
Photo above: Dr. KwangSoo Lim leads a Citadel MBA course in Accounting before the pandemic
The Citadel is offering more than 170 courses through five different summer study phases running from May through August 2021.
The summer courses range from undergraduate to graduate and graduate-certificate options. All summer courses are provided in a civilian (non-cadet) setting.
Important summer program information
Facemasks required in buildings. Per guidance from the Centers for Disease Control issued April 27, 2021, facemasks are required by every person inside buildings on campus, including classrooms. They are not required outside for the fully vaccinated, but are advised while in large group settings.
Campus housing and vaccinations. Summer housing in the barracks is available to any degree-seeking person attending summer courses. All cadets and students living on campus during the summer must be vaccinated two weeks prior to moving, or present a negative COVID test taken within 72-hours of arrival. Sign up through the Commandant's Office by completing the agreement here and emailing it to SFC Kenneth Greene at greenek1@citadel.edu.
On-campus classes. About 40% of the colleges summer courses are on campus. On-campus classes will be in person only (rather than the hybrid model the college has used in the past academic year as a COVID-19 protection protocol.)

On-line classes. Courses that are normally offered only online will remain the same.
Credits and rolling registration
Summer undergraduate courses at The Citadel have transferable credits, and include 11 degree completion programs. Courses are offered during the day, evening and online. Students can take courses throughout the summer, or for just one summer term, as desired.
The five segment options for summer classes are listed below. The deadlines for registering for the classes vary. For more information on registering, email registrar@citadel.edu, or call (843) 953-6969.
The Citadel Success Institute – register by June 15
The Citadel Success Institute (CSI) is a summer program designed to help incoming freshmen (knobs) with the transition from high school to college-level academics. Additionally, it helps acclimate future cadets to the requirements and rigors of the college's military setting.
CSI is the first step toward the goal of graduation from The Citadel. Statistics show that freshmen participating in CSI are better prepared to succeed at The Citadel.
Registration for CSI 2021 is available until June 15.
For more information, email CSI@Citadel.edu, or call (843) 953-5705.