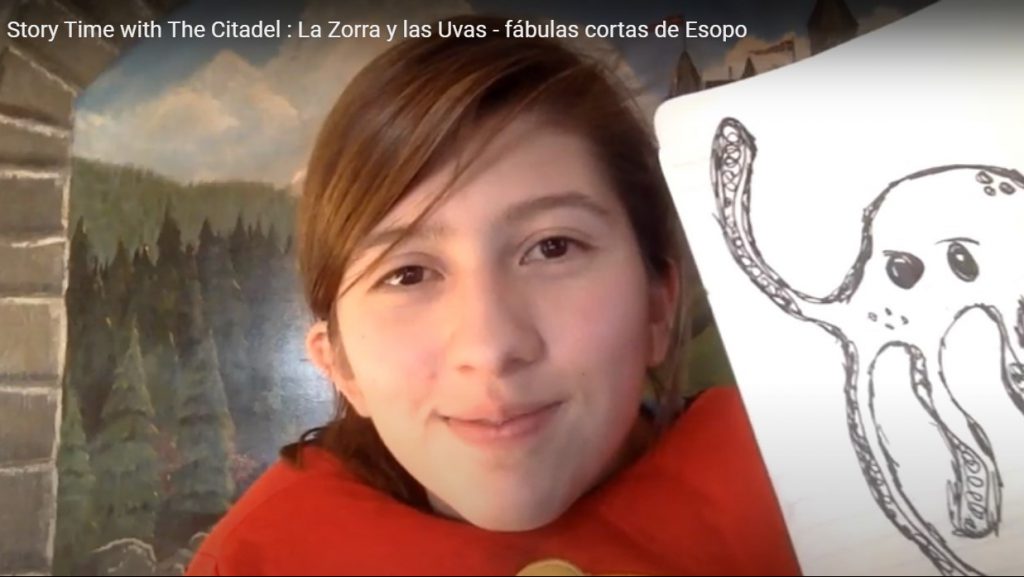 Photo above: Citadel Cadet Cadet Daniel Sanchez Martinez reading a story on Story Time with The Citadel
The Citadel is sharing the joy of reading with kids who can't be in their classrooms through Story Time with The Citadel. It is a new, story-reading web resource for teachers and parents — and the children they are educating and entertaining while schools are closed due to the pandemic.
Story Time with The Citadel is managed by a former cadet, Mike Akers, Class of 2019, who is now a fellow with the college's Krause Center for Leadership and Ethics.
"We have cadets who serve all year long with Charleston County School District schools. Some make several visits each week to the same schools, to promote literacy through reading," said Akers. "We have been working to develop outreach that can be safely accomplished remotely and still impact the younger students we are so devoted to in ordinary circumstances. And so, Story Time with The Citadel was born."
Story Time visitors just go to the website and click on a video to hear a story. They stories are read by cadets and a variety of members of The Citadel campus community.
There is a variety of stories including classics with a twist like The True Story of The Three Little Pigs, a funny tale called The Pigeon Finds a Hotdog, and one called La Zorra y las Uvas read in Spanish by Cadet Daniel Sanchez Martinez who is also wearing a superhero costume.
The links to the stories are being provided to partner schools by the Krause Center, but Story Time is there for any teacher, parent or caregiver looking for additional free resources for home-based learning.
"We are starting small, but we hope to have dozens more submissions from our Citadel family, especially by cadets finishing up community-engagement course assignments this spring," said Conway Saylor, Ph.D.,director of service learning and civic engagement for the Krause Center.