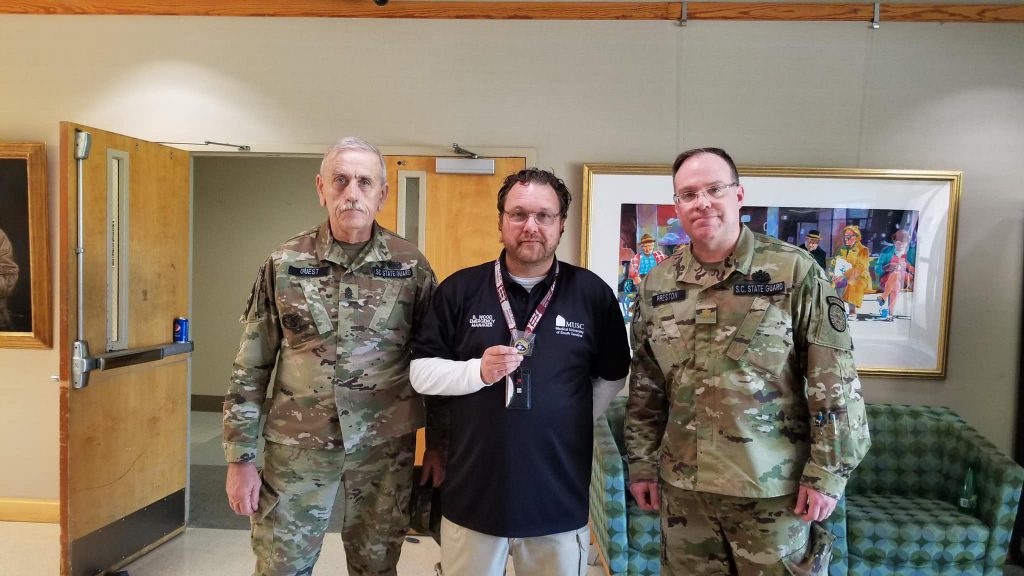 Note: MAJ David Preston, Ph.D., (right in photo) is an award-winning historian and a professor of History at The Citadel. Additionally, he is currently a major in the South Carolina State Guard, and the Executive Officer of 3rd Battalion, 1st Civil Support Brigade.
Here are some of his thoughts on his recent mission:
"It has always been a sobering experience to deploy in missions related to natural disasters, when we see our fellow citizens in great distress. But this mission to support MUSC was especially impactful. I witnessed the incredible work of medical and emergency professionals on the frontlines of this pandemic and also the sheer scale of their preparations to treat COVID-19 patients in the future. I hope that the medical facility we worked in is never occupied, but preparedness is a vital phase of emergency management."
"I serve in the South Carolina State Guard to give back in a small way to my fellow citizens, my state, and my country which have afforded me so many priceless blessings.  I have been able to gain credentials in emergency management and command experience.  The Citadel is also a place that inspires us to serve, as we are surrounded with so many examples of selfless service, including many students of mine currently in the armed forces, and sadly, some who have fallen in the line of duty."
The South Carolina State Guard helped to convert a MUSC fitness center into a 250-bed field hospital.
MUSC officials said their employees are working with the SC State Guard and the Army Corps of Engineers on the field hospital should it be needed for COVID-19 patients who do not require critical care.
The field hospital will be used for COVID 19 patients who are recovering and ready to be discharged.
"What was thought to have taken two weeks, took only two days to accomplish," said Brian Wood the Emergency Management Coordinator for MUSC adding, "The level of professionalism and skill of the members of the State Guard was unbelievable, they went above and beyond."
According to officials, 20 members of the State Guard's 1st Civil Support Brigade began the mission at MUSC on April 3rd only one day after the orders were given and completed the mission in two days.
"This mission is one of the most impactful that I have ever participated in, and our soldiers' performance was simply outstanding", said MAJ David Preston, Executive Officer of the 3rd Battalion, 1st Civil Support Brigade.
The latest report from MUSC posted on Wednesday shows a total of 321 positive cases have been associated with MUSC Health outpatients and people who have been tested at the West Ashley site.
Out of the 321 Charleston-area coronavirus cases linked with MUSC Health, 41 cases involve members of the system's health care workforce.
However, MUSC Health says that "at this time, no MUSC Health care team member has developed COVID-19 from hospital or ambulatory patient exposure," adding that those who tested positive "acquired the virus from community and travel transmission."