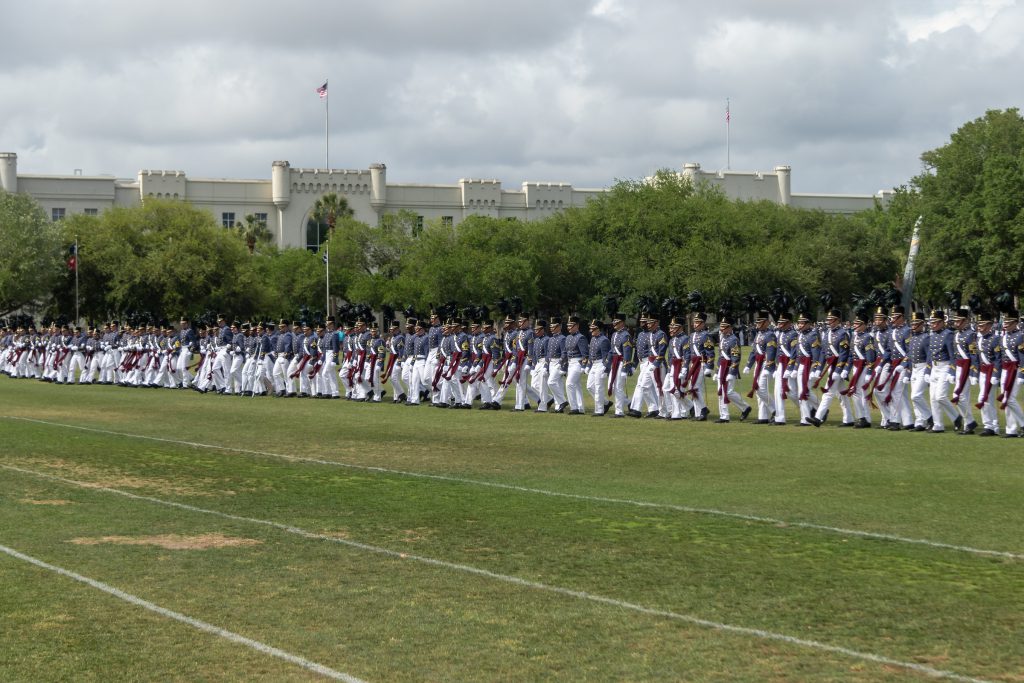 Event open to family members of graduating cadets only
Photo above: The Citadel Class of 2019 Long Gray Line parade
One of the most anticipated events of a cadet's experience at The Citadel is the Long Gray Line military dress parade.
This historic milestone marks the successful completion of a cadet's rigorous academic, leadership and military training at the Military College of South Carolina. In addition, it celebrates a cadet's transition to becoming a member of the college's Long Gray Line, the closely bonded alumni of The Citadel going all the way back to its mid-1800s roots.
Members of the South Carolina Corps of Cadets Class of 2021, led by Cadet Col. Nick Piacentini, regimental commander, will enjoy this tradition at 3:45 p.m. on Friday, May 7, 2021, on Summerall Field.
Due to the current pandemic conditions, there are special restrictions surrounding the parade:
-Only family members of graduating cadets are permitted to attend
-There will be no bleacher seating
-Family member may view the parade from these locations: Ave. of Remembrance, Lee and Jenkins Avenues (virtual map here)
-Parking is available on campus in open spaces that are not reserved handicap parking spaces, first come, first-served
-Viewing from the Jones Ave. side of the field will be restricted to faculty and staff only (display I.D.)
-Facemasks are required to be worn by everyone on campus
Members of the media wishing to cover the parade are asked to email kkeelor@citadel.edu in advance.