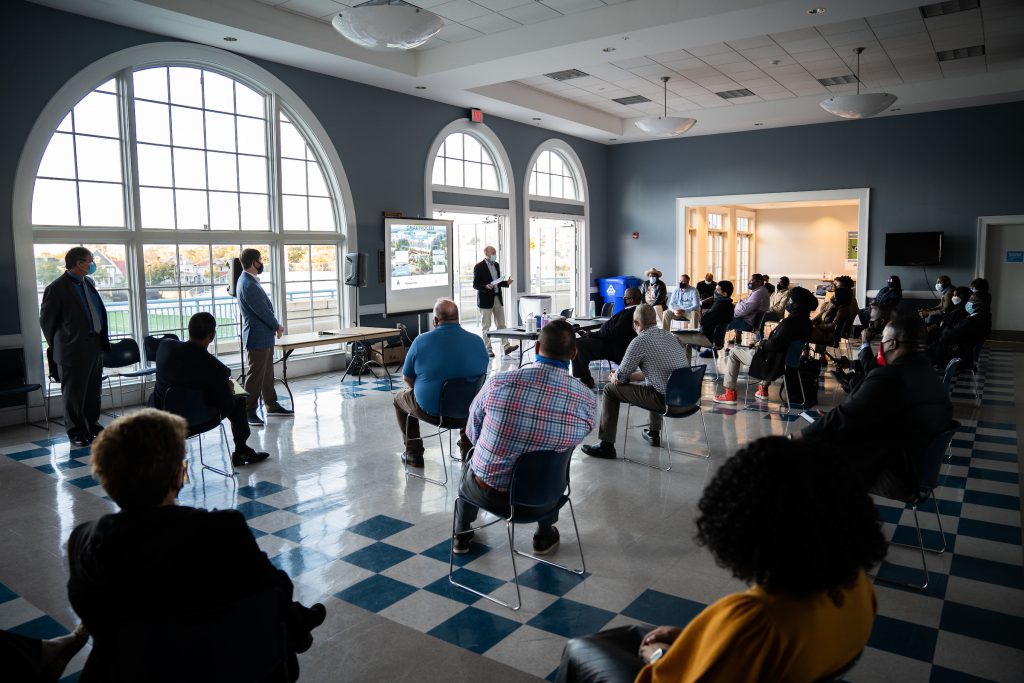 April 20 and 27 meetings; attend on campus or via Zoom
Photo above: The Citadel hosts minority/veteran contractor information session for the Capers Hall Replacement Project on February 16, 2021.
The Citadel's initiative to recruit minority-owned and veteran-owned contractors to bid on campus projects and maintenance services is already beginning to provide solid returns for both the college and the contractors.
For example, for the abatement and demolition portion of the Capers Hall Replacement Project, work is exceeding the college's strategic plan goal of 10% minority contractor participation, at 20%.
"A project like this, $50 million of construction work, will probably provide about 1,000 jobs over the course of two years, and we want our neighbors to benefit from that work – that's what's exciting about this," said Jeff Lamberson, The Citadel's vice president of Facilities and Engineering.
The Citadel's first Minority Contractor Information Session was held Feb. 16 with about 50 people attending in person or via Zoom. Among those attending was Carmen Jordan, project manager for Carbra Construction and Design in Columbia.
"I think this is a great opportunity. We've worked in Charleston the last two summers with the school district but we haven't been able to get our foot in the door with any of the universities down here so we're really excited about that opportunity," Jordan said.
The next sessions, open to any minority and veteran contractors in South Carolina, are scheduled for April 20 and April 27. Unlike the first session, these are not being held in connection to the Capers Replacement Project specifically, according to the The Citadel's Chief Diversity Officer.
"In these meetings we'll discuss how to work with The Citadel on ongoing campus maintenance projects such as painting and pressure-washing," said Shawn Edwards, chief diversity officer for The Citadel. "We are inviting any minority and veteran contractors who want to learn how to do business with The Citadel and are interested in becoming certified contractors with the Small Business Administration."
Information session details and links
Details about April information sessions is below. Contractors can attend in person at the listed addresses with no advance registration required. Those who would like to attend remotely, should register for the session they plan to attend via the provided link.
April 20 Minority Contractor Information Session
10a.m. – Noon
Bond Hall, Room 295 (#9 on the college's virtual map)
Zoom registration link: https://citadelonline.zoom.us/meeting/register/tJwld-2vqzMrGdVGE8SnCCURAKGVEijSOkbr
April 27 Minority Contractor Information Session
5:30-7:30 p.m.
Bastin Hall, Room 105
Zoom registration link:
https://citadelonline.zoom.us/meeting/register/tJUucOiqqjwiGdHKzmREKD0iWiw16ii8TaMw
Those who have questions can contact Edwards at sedward6@citadel.edu. For those who do not have access to a computer please call her at (843) 953-6989.