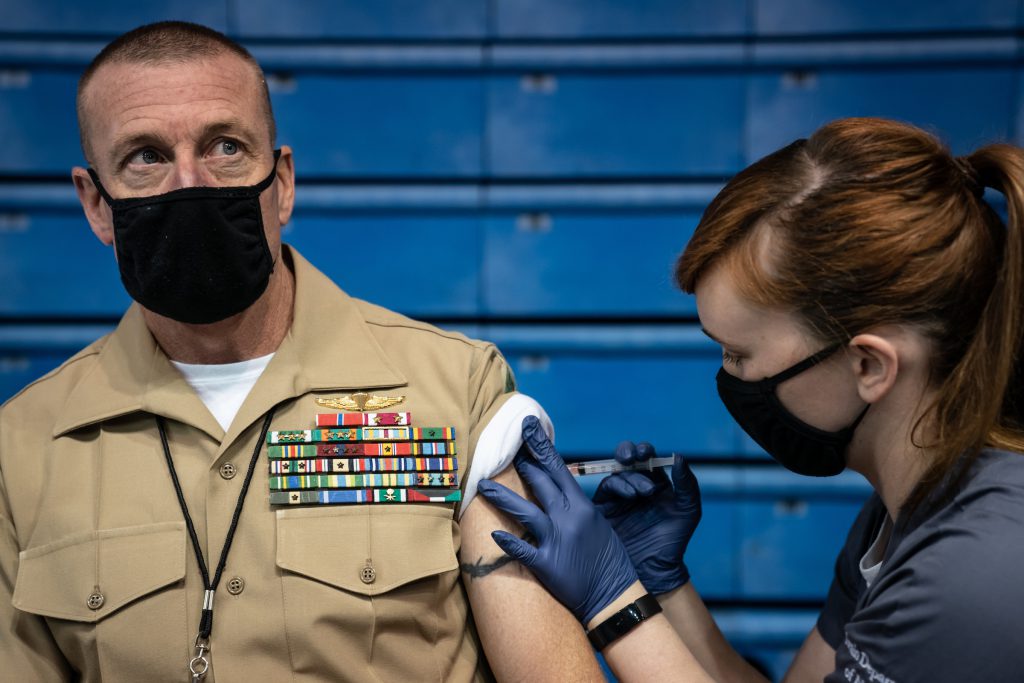 Slots still open for on-campus vaccine clinic Friday, March 26
Photo above: Cadet Victoria Conley, a senior Nursing major, administers a Johnson and Johnson Janssen COVID-19 vaccination injection.
The Citadel is holding two COVID-19 vaccination clinics for faculty and staff, and tapped into an on-campus resource to help: senior nursing students from the Swain Department of Nursing. There are 32 nursing students who are expected to graduate in May, eight helped with the vaccination clinic. Additionally, five trainers with the college's athletics teams are also helping give vaccines.
All faculty, staff , campus partners, vendors and contractors are eligible to receive the Johnson and Johnson Janssen vaccine, as well as high-risk cadets and students, by appointment. It is the vaccinate that only required one dose. The first clinic was March 24 and the students helped vaccinate more than 180 people.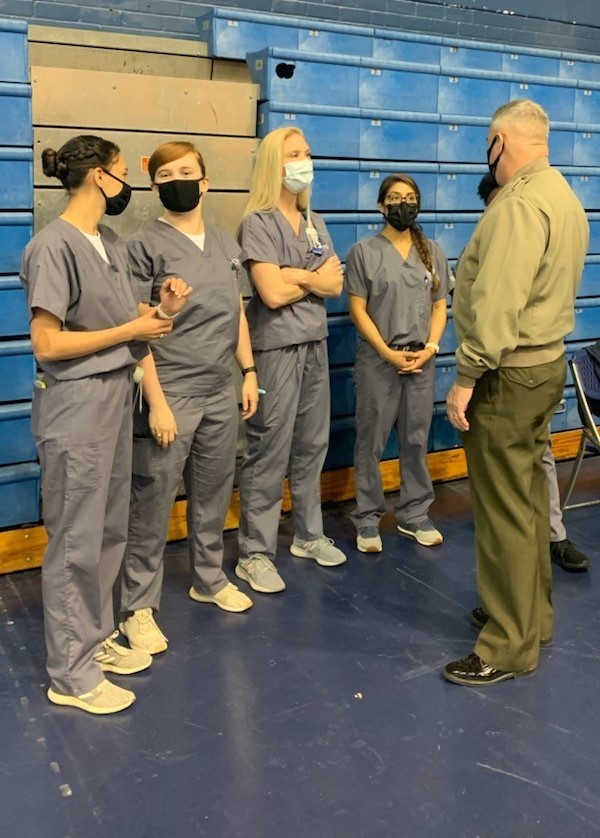 "The nursing students and athletic trainers did an incredible job, as did both nursing faculty instructors," said Leah Schonfeld, assistant vice president/chief resources officer for The Citadel Department of Human Resources. "The students and trainers were very professional, checking employees after their shots, and following all of the necessary procedures."
The next clinic on campus is Friday March 26, with registration required in advance through this link: The Citadel COVID-19 Vaccination Clinic FRI 26 MAR 21.
The future nurses welcomed the opportunity to help thwart the pandemic. Cadet Catherine Hill will graduate in May and accept a commission as an Army officer nurse.
As senior nursing students we were honored to be asked to administer the COVID-19 vaccine. Our nursing instructor Dr. Linda Edgerton said it best, 'we are making history getting to distribute it to the faculty and staff at The Citadel.'

This time last year we were sent home, anxiously wondering what the next year had in store for us. No one thought we would be where we are today and as a nation we patiently waited for a vaccine to come out with the hopes that one day we would return to normal. Having the opportunity to administer the COVID-19 vaccine seems like a small role, however, it is truly an honor to be a part of the solution to this crisis gripping our nation.

Cadet Catherine Hill, The Citadel Class of 2021, U.S. Army-bound nursing major
Linda Edgerton, Ph.D., one of the college's nursing instructors, helped train the student nurses on the vaccination procedures and oversaw their work.
"As this year's nursing students graduate and enter health care settings as professional nurses, COVID-19 will continue to be present," said Linda Edgerton. "After helping vaccinate faculty and staff on campus, they know they are already making a difference and will be even more prepared work. This pandemic is an historic public health crisis and these women and men will likely remember helping safeguard The Citadel's faculty and staff with vaccinations their whole lives."
The campus community would like to thank the following Class of 2021 nursing students and the athletic trainers helping with the clinics.

Nursing students
Cadet Jesse Crook
Cadet Catherine Hill
Amauri Bowman, Citadel Graduate College evening student
Courtney Marsh, Citadel Graduate College evening student
Cadet Victoria Conley
Drexyl Blair, Citadel Graduate College evening student
Logan Nelson, Citadel Graduate College evening student
Cadet Kate Manzione
Citadel Bulldogs athletic trainers
Jenna Byrd
Jonathan Chang
Andy Clawson
Aliyah Duren
Michelle Lomonaco
All members of campus participating in The Citadel's vaccinations clinics are provided with a laminated vaccination card.
For more information about studying Nursing at The Citadel, please visit The Swain Department of Nursing at this link, or