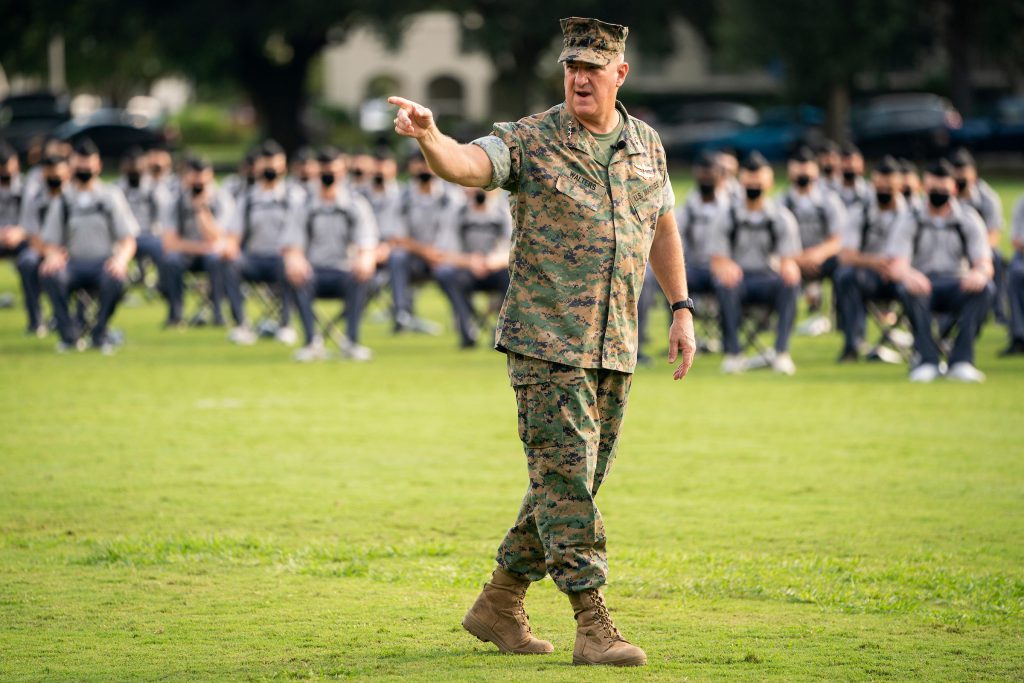 Citadel Family:
Greetings. I hope this reaches everyone in good health.
I write today as the Corps prepares to depart on Winter Furlough after one of the most unusual periods in Citadel history. On 13 March 2020, we began Spring Break in an atmosphere of uncertainty as the threat from COVID-19 developed into a worldwide crisis.  After finishing the semester remotely, and cancelling most in-person and on-campus activities, our Citadel family faced the challenge of how best to restart, and return to as normal a routine as conditions allowed.
Our mission remains the production of principled leaders in an academically challenging environment, centered on The Citadel's core values of Honor, Duty and Respect. This informed our pandemic objectives of consistent delivery of high-quality instruction coupled with continuing our in-person military environment and maintaining the Long Gray Line.
Core values also guided us as we contemplated reconstitution of our campus community during a time of national turbulence regarding race, and a contentious election season. Our college is unique, as these values are part of daily conversations, and take on greater importance in uncertain times.
Our faculty and staff's efforts, innovation, and attention to detail in these past months cannot be overstated. We learned much during our partnership with the Marines, but make no mistake– the entire team performed magnificently in preparing for the return of our cadets and students.
But great planning means little without execution. We needed the entire Citadel family to work together.
I could not be more pleased with the performance of the Corps. We asked much of you, and you delivered in an environment unique in our 177-year history.  Our students, faculty, staff, and alumni showed what a united campus community can do—it's inspiring watching everyone doing their part. The success we've achieved is only possible with everyone adapting and overcoming.  Congratulations and Thank You!
Challenges remain, and new ones will surely appear. We have the conditions, tools, and values in place to overcome those obstacles as they emerge. What I've seen since March gives me great hope and confidence we will continue our success.
These are among the many blessings we share as a community as we celebrate Thanksgiving and enter the holiday season. Gail and I send best wishes to you, your families and friends – safe travels and good health.
We look forward to seeing everyone back in January to hit the deck running for the start of the spring 2021 semester.
Good Luck and God Bless each of you.
Glenn M. Walters '79
General, USMC (Retired)
President