Information and actions being taken related to COVID-19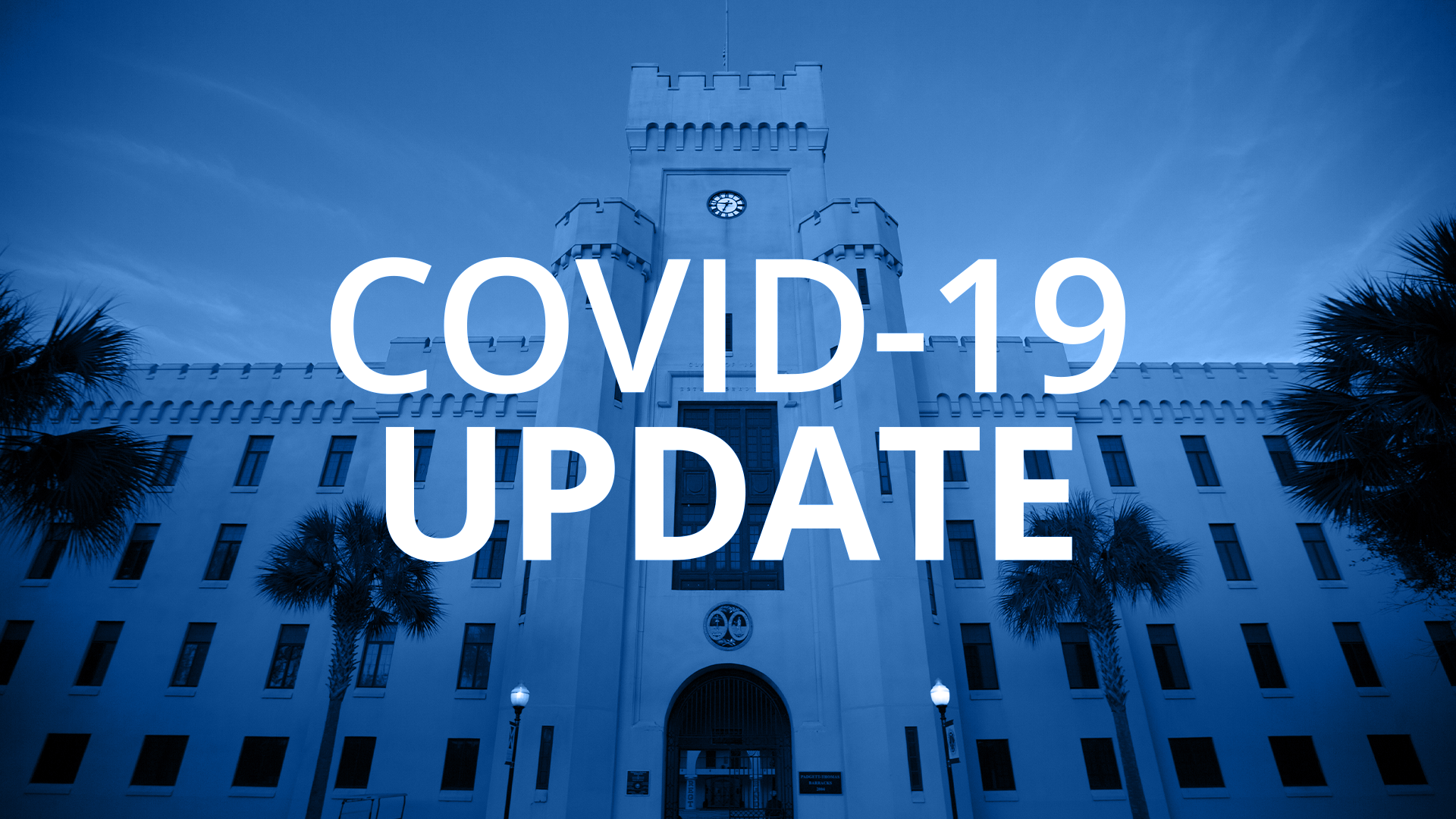 2021-22 Campus Status
| Active cases since July 20, 2021 | |
| --- | --- |
| Currently active | 53 |
| Number recovered | 531 |
| Total | 584 |
| Status | Active cases | Close contacts | Isolation and quarantine* |
| --- | --- | --- | --- |
| Cadet – campus | 20 | 14 | 34 |
| Cadet – home | 17 | 24 | 41 |
| Non-cadet student | 8 | 0 | 8 |
| Faculty and staff | 8 | 1 | 9 |
*Isolation and quarantine numbers include active and close contact cases
Current as of January 25, 4:20 p.m.
The Citadel to temporarily require masks in classrooms, laboratories, the library and medical facilities to begin the spring 2022 semester
Based on current COVID conditions – driven by the recent spike of the Omicron variant – The Citadel will temporarily require face masks to be worn in select areas on campus, effective Sunday, Jan. 9.
This policy will be reevaluated weekly as the semester progresses, with the goal of returning to normal operations as soon as possible.
All individuals, regardless of vaccination status, will be required to wear masks in the following areas:
All academic classrooms and laboratories
All academic office spaces (does not apply when faculty or staff are alone in their offices)
Daniel Library
The Infirmary
The Counseling Center
Masks will not be required outdoors, in the barracks or in any location not listed above.
Anyone who wishes to wear a mask in other areas of campus may do so. All members of the campus community are asked to be respectful of others; when interacting with someone wearing a mask, it is considered proper etiquette to wear one as well.
COVID testing, vaccinations and instructions for the spring semester
As the spring semester gets underway, the college continues efforts to keep the campus community as healthy as possible by making testing, vaccinations and boosters available. The college will continue tracking cases of COVID and anticipates a rise in numbers as people come back from furlough, with facilities ready for the quarantine or isolation of cadets. Instructions for others who may test positive in the coming weeks are below, based on CDC guidelines.
Please note the following information:
Medical accommodations must be resubmitted – Jan 11
Faculty and staff must re-submit requests for special accommodations for the spring semester due to COVID-related vulnerabilities, to include masks or other needs. Send an email to hr@citadel.edu by January 11 if possible. If you were approved last semester, HR still needs you to send an emailed request but additional medical documentation is not required.
There will be a testing clinic on campus from 9 a.m. – 2 p.m. on Monday, Jan. 10 on the second floor of McAlister Field House. Employees should register in advance at this website. Testing is open to all Citadel cadets, students, employees and contractors. Walk-ins are accepted.
Vaccine booster shots (or first vaccine if needed) – Jan. 20
Pfizer vaccine booster shots will be available for all campus populations who have not yet gotten one from 9 a.m. – 1 p.m. on Thursday, Jan. 20. Employees should register in advance at this link: COVID-19 Vaccine Clinic – The Citadel – Delta Pharmacy (delta-rx.com). Cadets, students and contractors may walk in, but are encouraged to try to register in advance at the same link. Initial vaccines can also be provided for the unvaccinated, by registering in advance.
What to do if you test positive after returning to campus
– Cadets
Those who feel unwell, or who test positive for COVID, should wear masks and immediately report to the infirmary. If your roommate tests positive, you will be contacted by the infirmary and receive further guidance.
– Students
Veteran Day students, on-campus college transfer and graduate students testing positive for COVID should report that immediately to kbrenna1@citadel.edu who will coordinate with your faculty to arrange to have you attend class remotely. Our contract tracers will follow CDC guidelines according to your vaccination history and determine when you may return to campus.
– Faculty and staff (plus contractors)
If testing positive for COVID, do not come to campus. Report your situation to your supervisor and immediately email hr@citadel.edu for guidance. Current CDC guidelines recommend a minimum of a five day isolation period for someone who has tested positive, regardless of vaccination status. If someone in your household is positive for COVID and you have been vaccinated and boosted, you can come to campus wearing a face covering. If you have not received a booster, you must quarantine at home for five days if a close contact tests positive.
Where can I find the most recent guidelines?
The Citadel continues to follow the CDC guidelines. The most recent guidance can be found at this link.
Vaccinations
The Citadel recommends everyone on campus get vaccinated, and asks anyone who has not already done so to report their vaccination status via an e-form here or through Banner here.