Against all odds, André Roberts, '10, a wide receiver and return specialist from Columbia, South Carolina, is entering his ninth season with the NFL. The New York Jets player and former Bulldog is modest about his success, but in the world of pro football, where the average player career is a mere 3.3 years, Roberts' tenure is a coup. So how did he do it and what role did The Citadel play?
---
By August 1, training camp for the New York Jets is in full swing. The forecast calls for a chance of showers, which could mean an indoor practice. André Roberts lounges in the conference room of an upscale hotel in Florham Park, New Jersey. He's wearing a black t-shirt, gray Under Armour athletic pants and black slides on his feet. He has an impressive mane of black dreadlocks, a pair of warm brown eyes and a smile as wide as the open sea. At 5'11, 195 pounds, he is small for a pro football player, but what he lacks in stature, he makes up for in determination. It's 0730, and he could be working out, but he's taking an hour out of a very tightly controlled day to talk to us before morning player meetings.
Training camp in New Jersey for Roberts is a little like being back at The Citadel. There is a regimented schedule that includes physical training and a curfew—substitute player meetings, walkthroughs and practice for classes; a luxury hotel for the barracks; and a posse of seasoned coaches for cadre. At training camp, the days are long and the stakes are high. Most of the 90 players on the pre-season roster are under 26 years old, and, at 30, Roberts is surpassed only by 32-year-old defensive lineman Steve McLendon and 39-year-old quarterback Josh McCown. By the time the season starts, the roster will be cut to 53 players.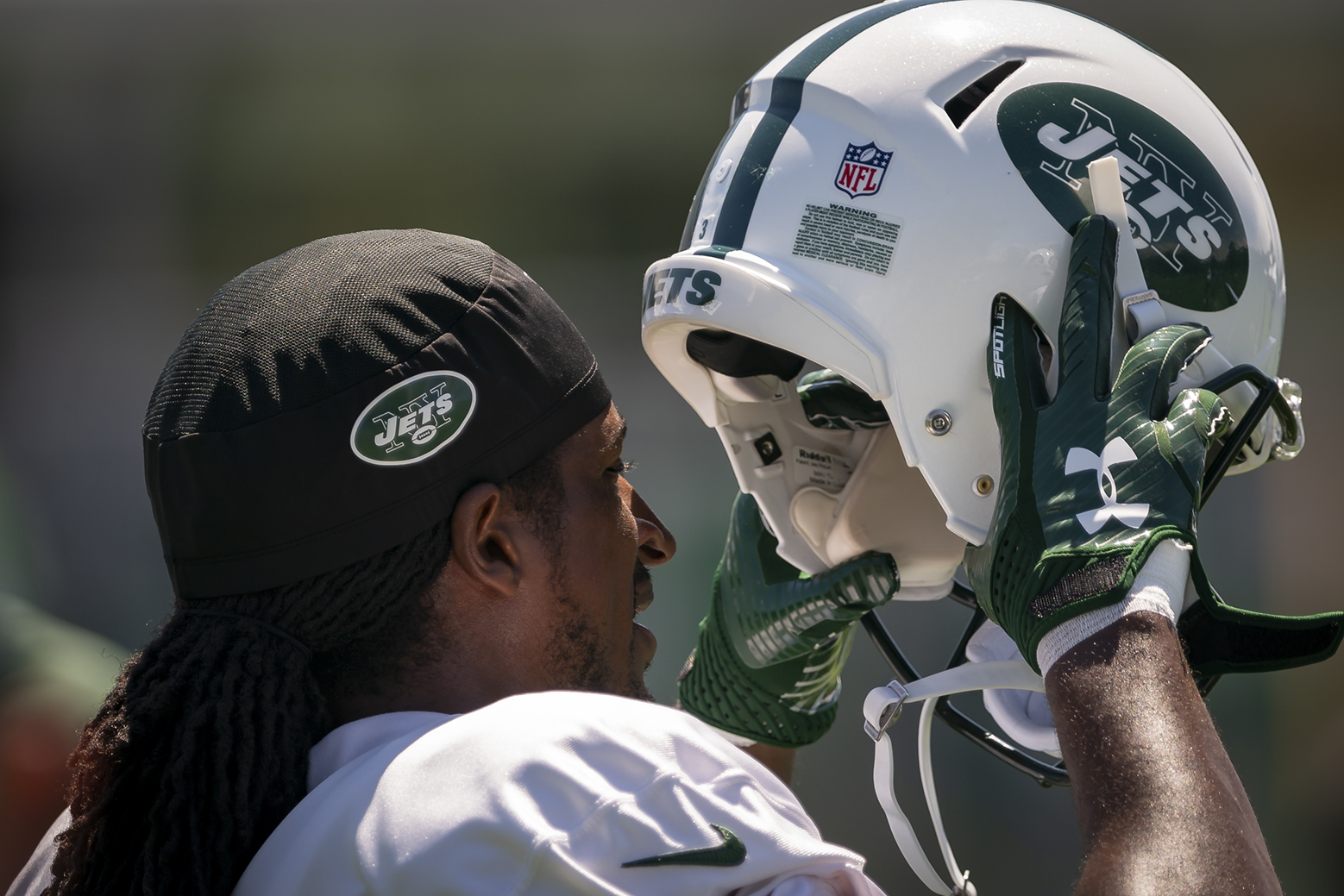 Roberts was born in Fairbanks, Alaska, in 1988. His parents, Stephen and Dorothy Roberts, were stationed at Fort Wainwright. The two began dating at Fort Hood in Killeen, Texas. Stephen was from St. Croix in the U.S. Virgin Islands, and Dorothy grew up in Georgetown, South Carolina. They both enlisted in the Army after high school.
As a child, Roberts and his older brother Stephen, named after their father, moved around with their Army parents—Alaska, Texas, South Carolina, and then a year in St. Croix when their parents were stationed in Korea. When Roberts was in the eighth grade, the family moved to Columbia, South Carolina, for good. Sports were always a part of Roberts' life—basketball, whiffle ball and football, whether playing on a team or with the neighborhood kids.
"I loved basketball, so that's what I wanted to do—I wanted to be a basketball player. I didn't realize I was going to stop growing, but I found a love of football."
But Roberts' friends and teachers were not encouraging. The chances of a high school football player becoming a college football player are less than 10 percent, and the odds are even slimmer for making it to the pros—fewer than 2 percent of college football players make it to the NFL.
"I was just determined, and I wasn't going to let anybody tell me no."
Roberts' parents were strict. There were curfews and expectations, and he was not allowed to play organized football until he was 13. At Spring Valley High School, he played football and basketball, and he ran track. While his athletic accomplishments went unnoticed by Division I colleges, he had football scholarship offers from a number of colleges in the region, including Liberty University in Virginia, and Coastal Carolina and The Citadel in South Carolina.
Kevin Higgins, who currently serves as the assistant head coach for Wake Forest, was in his first year as head coach of The Citadel in 2006 when he recruited Roberts. "I remember going to Spring Valley High School and talking with the head coach, Jimmy Noonan, who spoke highly of André. On film, André was an explosive, dynamic player on the field. He had character and work ethic. I remember thinking that we were going to get a steal with André."
Roberts liked The Citadel coaches, and he was attracted to their offensive game. "The Citadel had a passing offense, spread option pass offense, and obviously, being a receiver, that's kind of what I wanted to do."
The transition to The Citadel was a little more than Roberts bargained for. "It was a lot harder than I thought… When you're part of a military family, you kind of deal with stuff, and you're on base, and you see it, but you're not in it. And when you go to The Citadel, you become part of it, so it was a little bit harder. But I wouldn't change anything."
As a freshman, Roberts, who already knew the value of being part of a team, relied on his Romeo Company classmates for support. "The first year is tough. You can either get through it with your classmates, or you can quit, and a lot of us were like, 'We're just going to get through it.' And after that, it was a little bit easier."
While football was at the heart of Roberts' decision to attend The Citadel, he came to value the training and the experience.
"It was really regimented, but it was a great experience. At the end of the day, you go through a lot of tough things, but it makes you stronger… you build relationships that you wouldn't have had at a regular college. Obviously, if you play football or any other sport, you're going to be friends with the people in your sport, but you just build so many other relationships, either in your company or among your classmates—and you know they fight through the same things that you're fighting through, mentally and physically, so you build that tighter bond."
At The Citadel, Roberts' bonds with his teammates and the game became seared in his memory. "Putting on a helmet and running out there on the field was my getaway from the life of being in uniforms, marching and formations… it was a spread option offense, and we threw it [the ball] around a lot. We had a really good quarterback, so it was a fun time. I did some return stuff, a lot of punt returns, and I led the nation one year, which is pretty cool. But we had a lot of good teammates… and the brotherhood that came from what we dealt with in school. We all knew what we had to go through, and we all shared that stronger bond."
Assistant Athletic Trainer Michelle Lomonaco got to know Roberts when he was undergoing rehab for a sprained ankle as a freshman. "He was so down to earth. He was always on time and did exactly what he was supposed to do. There was no ego with André—he was always humble about his success."
Behind Roberts' humility was a burning determination to play in the NFL that had ignited years before in high school. Higgins, who had coached for the Detroit Lions, gave Roberts some career-changing advice that serves him well to this day: "Become a student of the game. When everyone else is sleeping, you've got to be on the field—you've got to be lifting, working out, enhancing your craft." Roberts took the advice to heart. "From that point on," Higgins said, "he blossomed as an athlete."
Pursuing an NFL career, however, had its challenges. The NFL draft, the combine and the Senior Bowl all take place in January, not a convenient time for a cadet who is intent on completing his business degree. Roberts was not to be deterred, nor was he willing to leave The Citadel without his degree—if not for his own sake, then to please his parents. He hunkered down, taking classes during the summer and loading up during the academic year. He finished what he started, graduating in 2009 in just three-and-a-half years.
A two-time All-American, Roberts holds The Citadel's records for the most passes caught in a game (14), season (95) and career (285). He also holds Citadel records for receiving yards in a season (1,334) and career (3,743), and touchdown catches in a season (14) and career (37).
As his last season at The Citadel ended, Roberts' NFL career was beginning to seem likely.
"My junior year was my biggest season. I played well against all the big teams, and that's when I started getting looked at by the pro scouts. And after my senior year, I knew that I would be drafted. I went to the combine, and I went to the Senior Bowl, and I did fairly well, so my draft grade was second- to third-round, so I knew I was going to be drafted… I ended up getting drafted in the third. I had my family at the house and some of my classmates, some of my friends, some of my teammates from The Citadel, and it was a good day."
Roberts signed with the Arizona Cardinals in 2010 for $3.4 million. He knew nothing about Arizona except that the team had just won the Super Bowl and that he, André Xavier Roberts, despite the odds and the naysayers, would be playing pro football.
Roberts played for the Cardinals for four seasons before signing with the Washington Redskins, where he played for two seasons. In 2016, he signed with the Detroit Lions, and in 2017, with the Atlanta Falcons before signing with the Jets in 2018.
On the Side
A Military Kid
Roberts won the NFL's 2017 Salute to Service Award for his commitment to honoring the military community for its service. As an NFL player, Roberts has participated in a number of events, including visits to VA hospitals; Fishing with the Falcons, an event in honor of veterans; and support of the Tragedy Assistance Programs for Survivors. But it is probably the football camps that he holds on military bases for kids in grades 1-8 that resonate most with him.
"The kids are so genuine, and whether you like it or not, they're going to say what they want to say, and sometimes it doesn't matter if their parents are around, either good or bad—you're going to hear it from them. Kids are our future. I try to say, 'I was just like you at one point. I was on a base. I moved around. I had military parents.'"
Life in the big leagues meant recognition, a contract with Under Armour, a football trading card with his image and the means to fund his two personal passions—golf and travel. In the offseason, Roberts is a traveler. A perk of being an NFL player is admission to exclusive golf courses all over the world. When he's not playing golf, Roberts is either traveling to military bases, where he holds football camps for military kids, or to new places. At 29, he reached his goal to travel to every continent before the age of 30, and that goal changed his life. In Australia, he met Olivia Kinney, his fiancée. Last spring, the couple welcomed their future cadet recruit and NFL player, Jaxon Xavier Roberts, who was born May 20.
Perhaps one day Roberts will impart to his son the secret of his success.
"I learned early on that you have to come in every year and act like you're a rookie, because everyone is coming in trying to take your spot. Just like when I came in. I came in to try to take somebody's job, and there's a draft every year. There's somebody coming in to try to take your job, so if you can come in, and every year, regardless of your contract situation, you can come in and act like you're a rookie, work like you're a rookie, like you're trying to earn your first spot, you have a good chance."
After a late morning shower on August 1, the clouds dissolve, and the sun comes out, warming the day to an unexpected 88 degrees. At the Atlantic Health Jets Training Center, the Jets hold their practice outdoors. There are three outdoor practice fields lined up one against the other. Between fields two and three, a grand oak sits majestically out of place among the manicured fields. It's 1500, and the smell of sun on the turf fills the light breeze. Roberts is on the field dancing back and forth in place while he waits for his turn to catch the ball. When it comes, he runs after it, lithe and graceful—a gazelle fluid in his movements. The throw is bad. The ball sails out wide and low, but Roberts reaches out effortlessly, hurling his body forward to scoop it up before it reaches the ground, and clutching it to his side, he recovers…
It's game on for Roberts, and the promise of a great season looms on the horizon.