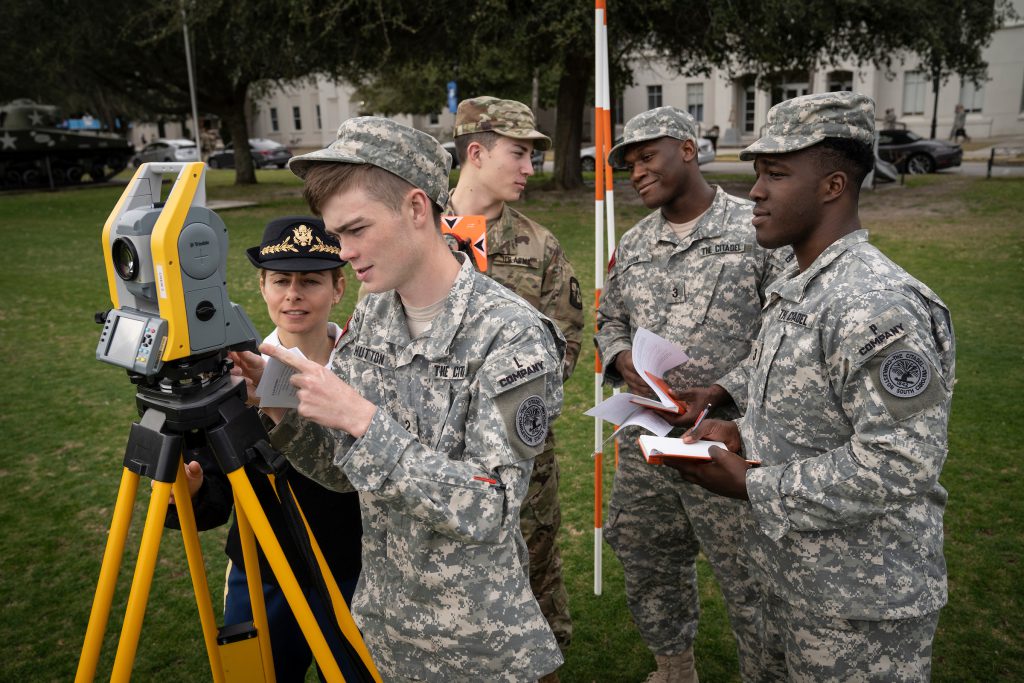 New dean joining The Citadel from LSU
Photo above: engineering cadets doing field work on campus with professor in Feb. 2020
The Citadel School of Engineering, ranked consistently among the top 25 programs in America, will have a new leader.
Craig M. Harvey, Ph.D., P.E., will join The Citadel as dean for the School of Engineering. He is leaving Louisiana State University (LSU), where he is currently associate dean of Academic Affairs for the LSU College of Engineering.
"On behalf of The Citadel community, I am delighted to welcome Dr. Harvey," said Sally Selden, Ph.D., SPHR, provost for The Citadel. "He is a proven leader with a passion for championing students, staff, and faculty success and the ideal choice to continue the trajectory of the School of Engineering as a national leader in engineering education."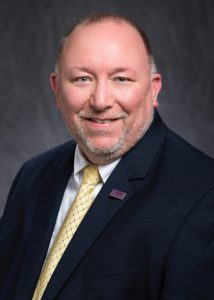 Harvey is a professor of Industrial Engineering and holds LSU's F.J. Haydel, Jr. Kaiser Aluminum Professorship. Prior to his current role at LSU, he was program director for Industrial Engineering there.
Harvey teaches and conducts research in the area of Industrial and Human Factors Engineering. His research has ranged from investigations into engineering design process, medical product usability, health care productivity, construction safety and control room management. Harvey's work has been funded by the Keck Foundation, National Action Council for Minorities in Engineering, Federal Aviation and Hospitals, National Aeronautics and Space Administration (NASA), Louisiana Department of Economic Development, Louisiana Board of Regents, Baton Rouge Area Foundation and the National Science Foundation.
Prior to joining the academic community, Harvey was a business process reengineering for consultant for KnowledgeWar, where he worked with Whirlpool and Ford Motor Company. Before that, he was manager of business process reengineering for the Student Loan Marketing Association (SallieMae) where he was responsible for the re-engineering portion of the implementation of a $55 million document imaging system.
"Engineering has a long tradition at The Citadel and I look forward to joining such a prestigious School of Engineering," Harvey said. "The Citadel is well respected for the development of engineer leaders that help transform our society. I welcome the opportunity to work with the excellent faculty, staff, and students at The Citadel. Go Bulldogs!"
Harvey served in the U.S. Air Force in active duty as an Air Force Civil Engineer for seven years and in the reserves for 13. Harvey has more than 70 technical publications and is a senior member of the Institute of Industrial Engineers and Human Factors and Ergonomics Society.
The Citadel initiated the national search in December, with the announcement of the impending retirement of the current dean, Col. Ronald W. Welch, U.S. Army (Ret.), PH.D., P.E., FASCE, following the end of the 2021 academic year.
"I would also like to express my gratitude to Dr. Ron Welch for leading and serving as the Dean for the past decade. During his tenure as dean, the school launched a number of new programs at both the undergraduate and graduate level, improved student retention, hired an exceptional group of faculty and developed a strong base of support from industry and alumni," Selden said.